Floor plan
Chalet Wildhorn is a spacious mountain chalet that blends modern comfort with traditional Swiss alpine charm. . Chalet Wildhorn has 8 comfortable bed rooms on 1st and 2nd floor, accommodating 21 to max 25 people, and is located in the village of Anzère, which is perched high on the southern slopes of the Valais at 1500m.
First floor:
5 bed rooms have private bathrooms, 7 in total. On the ground floor, there is also a bathroom and a separate Wc room. The 1st floor, has a large balcony going around the chalet on 3 sides. 3 bed rooms open out, all south facing and overlooking the Alps.
Le Dent room
The Dent Room at the Beautiful Bedroom with 1 double bed (140cm). This charming room is located on the first floor and offers stunning mountain views. The perfect spot for a romantic getaway or a family vacation, the Dent Room is sure to make your stay in the Alps unforgettable.
Maimbre room:
The Maimbre room is a cozy bedroom with a double bed (140cm) on the first floor of the chalet. It has a warm and inviting atmosphere. The room is decorated with a beautiful rug. It has a large balcony going around the chalet on 3 sides.
Maya room:
The Maya room is perfect for families or groups of friends travelling together. With three single beds and one bunk bed, it can accommodate up to five people. The room is spacious and bright, with plenty of storage for all your belongings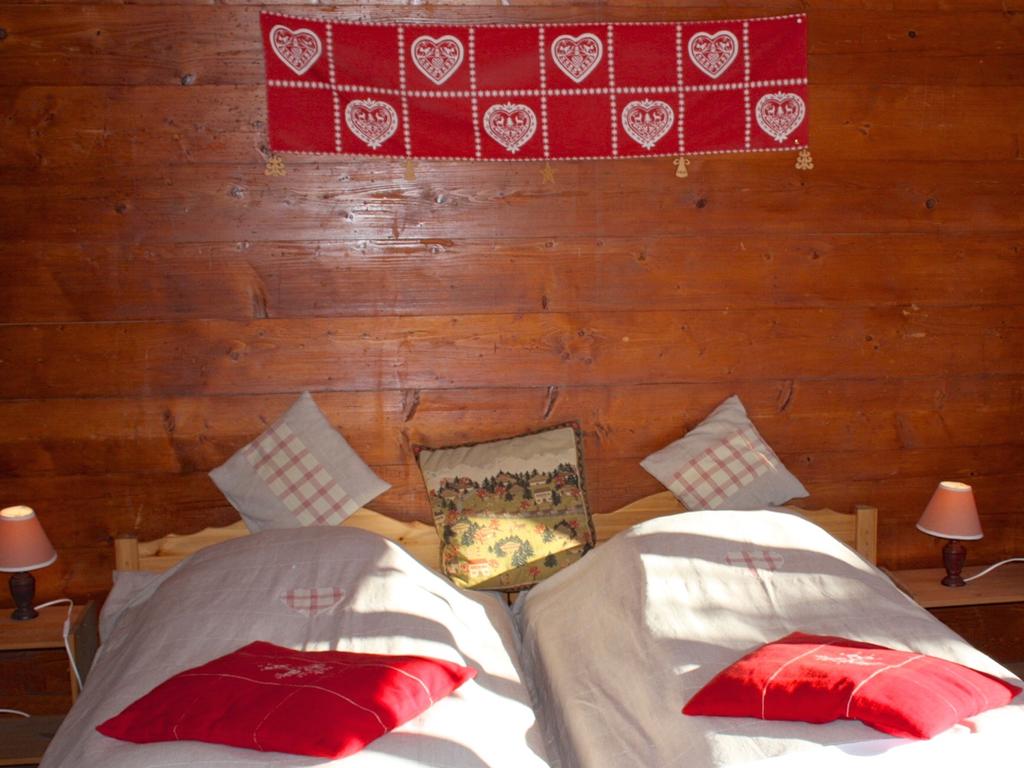 The Le Dôme room
The Le Dôme room is a cozy and comfortable space that is perfect for a couple or a family with small children. The room comes with one double bed (140cm) and one bunk bed. The room is decorated in a warm and inviting style, and guests will appreciate the amenities and services that are available.
The Le Bâte
The Le Bâte room is a cozy little space perfect for couples or solo travelers. The room has a comfortable and clean bunk bed with a comfy mattress and plenty of pillows. The guests who stay here will have everything they need to relax and get a good night's sleep.
The second floor:
The second floor feature 3 cozy bedrooms: Weisshorn room, Bisshorn room, Brüneggshorn. Each equipes with 2 single beds (90cm). 2 of the 3 top floor bedrooms open out onto a balcony, with breathtaking panoramic views!
Take a Chalet Wildhorn Tour: